My birthday's comin around again (hi fellow Leos)! 
Here's me lately. Lots of time stretching and dreaming.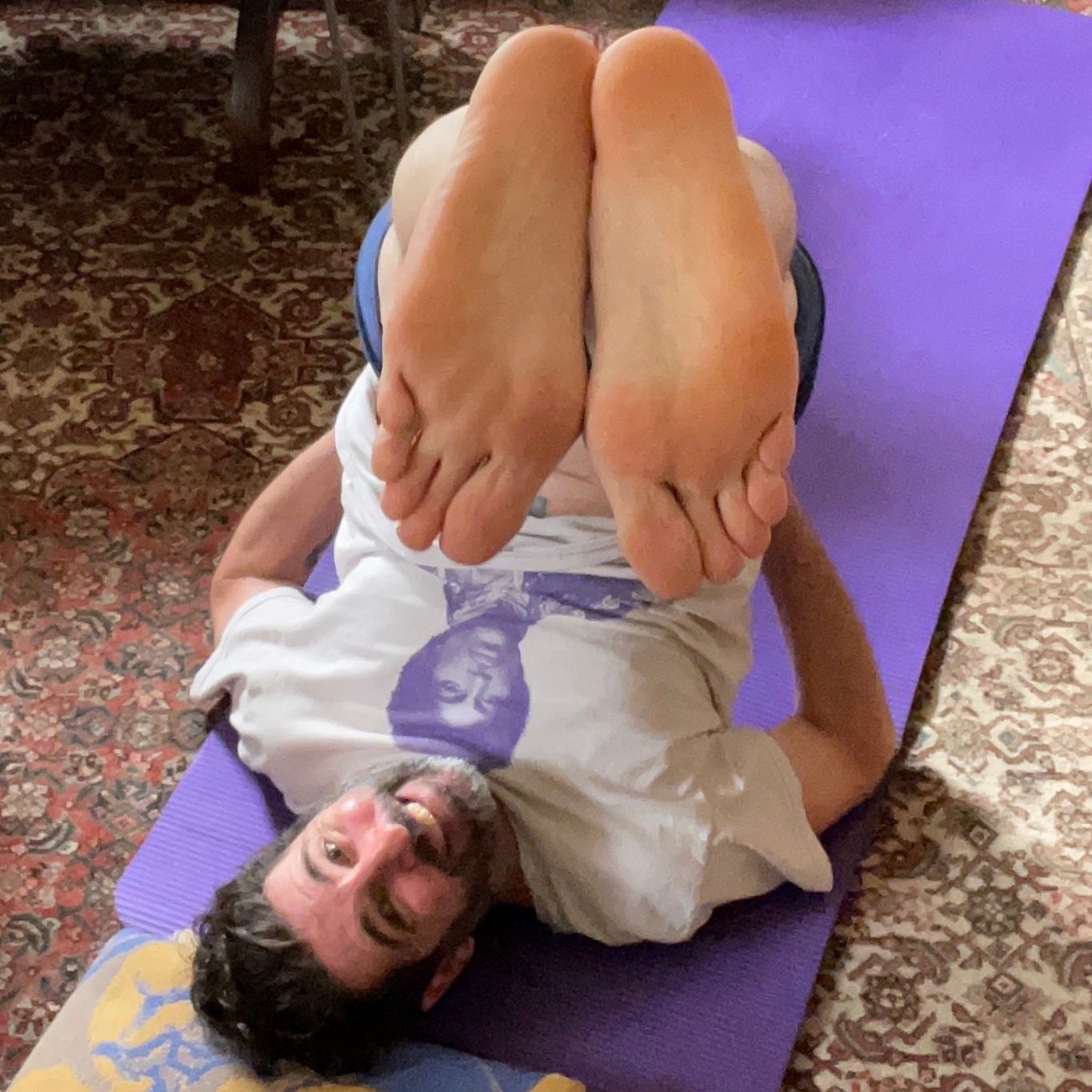 The ol' bday always seems to bring all the feelings. There is really so much to tell, and I keep getting overwhelmed, so I'm just gonna do the best I can. 
My birthday pledge to myself and to you: the time between now and my 2022 birthday is going to be extra-full of serious fun creativity and adventure, and I hope to have everyone reading this be a part of it. 
Click on anything that sparks yr curiosity. and please spread the word in all the ways. It matters more than I could ever say. And speaking of birthdays, it would indeed be a great gift for me if you got in on any/all of this goodness.   
Monthly music & more! ALWAYS NEW 
Yup, I'm gettin Always New going again. It's endlessly interesting seeing what arrives, and sharing it with you fresh. Music, movies, pictures, thoughts… The first ep drops in August. You can sign up for a year of creations in the Yard Sale. Also, everyone in IDEAS gets all the Always New stuff free, so it's a real good time to join in on that fun if you haven't already. Speaking of which, aside from Always New, I'll be refreshing the IDEAS playlists real soon, and that will keep going along with Always New. 
Make a song with me! DOWNWRITE 
Many of you know that I've been doing UNIQUE RECORDINGS for a lotta years now, and you can still get one direct via my site anytime. That said, some rock friends in Chicago started a business called Downwrite that's based around the same idea, and they're doing a great job building it, and I'm happy & honored to be part of it. One way or another, let's make stuff. 
Make home-ish shows happen! PARLOUR GIGS
I have no idea when I'll get back to traditional touring, or when traditional touring will even get back to being a thing, but I've been having serious fun doing small, safe shows in backyards and such. It's something I've always loved, and now it's kinda the only way. If you want to make something happen, you can get in touch direct, or check out PARLOUR, which looks to be a cool little show-booking system. Let's see how it goes! 
New label! IODINE 
Iodine is a great indie label in Boston, run by a great guy called Casey. I met him way back in the day, when I played a show in his basement with Travis Piebald and Stephen Cave-In. He got in touch recently to let me know he was getting the label going again, and would I want to be a part of it, and I said HELL YEA. There is for sure a full-length album coming soon, and likely lots more. 
I could still talk about so much more, and I will soon, but that feels like plenty for now. If you like Instagramming, I started a new account for onelinedrawing, so you can keep up with me there, and here is forever my favorite way. 
Oh and in case you hadn't heard... new Instagram! @aonelinedrawingis 
Happy to stay connected there... 
and my focus will stay on IDEAS and the site and the e-list and all the personal ways. 
Love, 
Jonah